NFL To Consider Making Pass Interference Calls Reviewable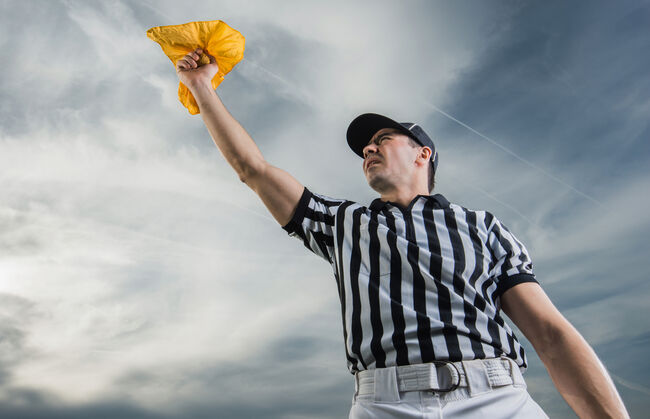 Hey, great news, you know how the NFL has come to review so many plays that the games seem to have more annoying stoppages than the US government, but—let's face it—we spend entire commercial breaks rooting for a call rather than our team.
Well great news, the NFL may soon be adding more replays.
And for the same reason they added all the other ones—dumb fans who don't understand the root of any sporting event is competition and if you didn't play well enough to overcome one bad call then you didn't play well enough.
My onions aside—it is now the opinion of the NFL's competition committee that is should consider making pass interference calls reviewable by instant replay when the league's leaders discuss potential rule changes this offseason.
The league's latest look at the issue comes, of course, in response to the Rams 26–23 overtime win over the Saints after a late blatant pass interference call against the Rams went uncalled. While the non-call was not reviewable, an NFL senior VP of officiating reportedly told Saints coach Sean Payton afterward that the penalty should have been issued.
The Saints could have had the chance to run time off of the clock before attempting a field-goal, if the pass interference had been called. Instead, the Rams mounted the comeback and secured their place in the Super Bowl.
The NFL has been using a replay system since it was reinstituted in 1999 but has refused to allow subjective penalties such as pass interference to be reviewed. A league source now says this year could be different.
"It will be discussed at length along with additional fouls that coaches feel should be subject to review," the source said.
If the rule change is approved, the league will need to make one more. They will have to start timing games with a calendar.
Source: SI.com

Morning Adjustment BLOG
Want to know more about Morning Adjustment BLOG? Get Eric's official bio, social pages & articles on Z-98!
Read more