*LIST* Top 10 Best Fast Food French Fries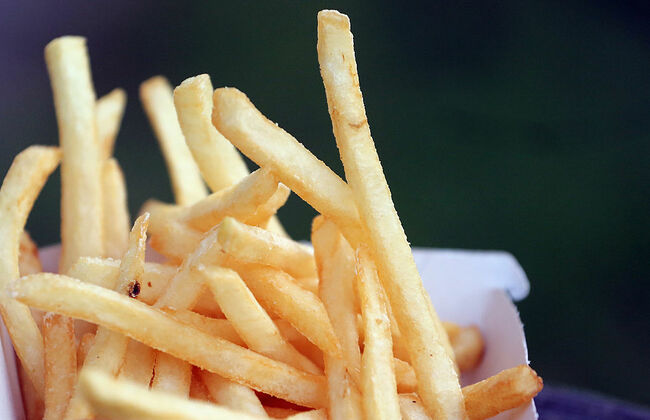 Some may just consider fries the side dish to fast food burgers, chicken tenders, and hot dogs, but they can make or break a dining experience. So, on a quest to find the best fries in the country, the folks at Foodbeast only considered fries made from single cuts from a whole potato. No onion rings or tater tots here, but they did include curly, criss-cut, wedges and here's their list of the 10 best French fries in the U.S.
10 - Potato Wedges, KFC - People usually love or hate these crispy, seasoned potatoes, and it all depends on if the inside is soft and fluffy on the inside.
9 - Seasoned Fries, Taco Bell - These are the newest fries on the list and they've been a best-seller since they recently landed on the menu. The seasoning may be a little strong, but they come with nacho cheese sauce, so there's that.
8 - Cajun Fries, Five Guys - The bags are always loaded full and if you like a little heat with your fries, these do not disappoint.
7 - Crinkle Cut Fries, Del Taco - Those crinkly edges allow for extra texture and the crispy ones are good enough to dig through the soggy ones to find.
6 - Cajun Fries, Popeyes - These Cajun Fries beat Five Guys because they're battered and come out crunchier.
5 - Natural Cut Fries, Wendy's - When Wendy's made the change to these fries a few years ago, they became a favorite. And nothing beats hot fries and a cold Frosty.
4 - Crinkle Cut Fries, Shake Shack - They're the best at crinkle cuts because they're all extra crispy and never soggy.
3 - Curly Fries, Arby's - Those perfect spirals are a fast food delight.
2 - Waffle Fries, Chick-fil-A - It's all about the texture here and waffle fries get it right. These give the whole texture and flavor experience in each waffle fry, so they come in second.
1 - Classic Fries, McDonald's - It's no surprise to see these at number one. Mickey D's knows how to get the right amount of crispiness and salt and that makes them the favorite.
Source: Foodbeast

Morning Adjustment BLOG
Want to know more about Morning Adjustment BLOG? Get Eric's official bio, social pages & articles on Z-98!
Read more